Oregon's Cannabis Coast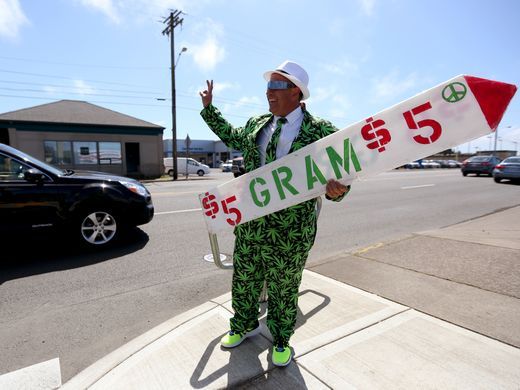 NEWPORT, Ore. — Eddie Biggar sports a black-and-green suit dotted with tiny green leaves as he dances jovially on a corner of the Pacific Coast Highway.
Some two-and-a-half hours southwest of Portland, he owns the sidewalk. Just like a sign-waiver might promote the local pizzeria, The Weedman boasts $5 grams, urging customers down the street to CannaMedicine.
The state has licensed pot dealers in every Oregon county bordering the Pacific Ocean, with the highest number near the beach here in Lincoln County, state data show. But there's little so far to suggest marijuana is changing the coastal economy, which is already largely fueled by tourism.
Still, there's no question many out-of-towners are heading into coastal pot shops. Retailers say they've seen people from China, Mexico, the Dominican Republic and South Korea.
"I've never seen so many different IDs in my life," Shane Ramos-Harrington said in Touch of Aloha, his Hawaii-themed marijuana outpost in the area of Depoe Bay, a community boasting the "world's smallest harbor."
In the sales room, a chalk board displaying daily deals promised a 5-percent discount to customers outfitted in Hawaiian shirts.
Ramos-Harrington came from Oahu and opened the business, now looking to spread a little aloha to Oregon. That means putting energy into people — if they come into his store upset, hopefully they'll leave happy.
Oregon's stretch of oceanfront is no Southern California doppelganger. Regular dark clouds over the ocean and towns sometimes make it feel like the sky sits on people's shoulders. The sun rises over thick forests in the morning, setting over the water come evening.
"If you brought a swimsuit to the Oregon Coast, don't worry, someone will loan you a sweater," the Oregon Tourism Commission assures.
One woman's pot-friendly bed-n-breakfast
Near the coastal town of Yachats (yah-hawts), where hills cascade toward the ocean and visitors can buy crab fresh off the boat, Deb Cardy opened her uncluttered home for business.
Northeast Forest Hill Street branches off U.S. Highway 101 like a pine needle on a branch — that is, if the branch crossed through three states.
Hang a left onto the dirt street and you're practically at Cardy's front door. The nearby ocean is her white noise. "You can hear the seals barking at night," the 61-year-old said.
Cardy has found a market for those wanting a place to stay the night and partake, with one of only five cannabis-friendly lodgings in Oregon listed on website Kush Tourism. She is running a new kind of bed-and-breakfast: a 420-friendly house within earshot of the Pacific.
She keeps hints of how welcome the crop is scattered around her house: "The Cannabis Kitchen Cookbook" on a counter; a small green cross above the numbers 420 and a smiley face on a wooden sign in her window; and three jars of her stash on a shelf near the front door.
"You don't have to have marijuana leaves on everything," she said.
The house is a one-story setup built in 1938 on enough land for her Artic Wolf-Huskie mix, Mia, and a fire pit.
Cardy came to this laid-back patch of Oregon after working almost four decades as a Colorado property manager.
"This is the most relaxing thing that you can do," she said.
Cardy, a medical marijuana patient, said she first used at age 12.
She wants to join other property owners up and down the coast to give vacationers a comfortable way to enjoy weed and the water.
"I live in one of the most beautiful places on the planet," Cardy said. "Why would I not want to share it?"
Larry Aguayo booked a stay with his wife last year.
Aguayo, a drummer, did a wedding gig about half an hour away in Newport, a much bigger city north of Yachats. They roomed at Cardy's afterward.
"It was just like being at home, knowing that we can go in there, we could medicate, not having to worry about going outside in the rain," Aguayo said. "At the motels, you've got to go outside."
During the trip, the Myrtle Creek, Oregon, couple also celebrated their anniversary at Cardy's place, which now runs $110 a night on home-sharing website Airbnb.com.
When they arrived, Cardy was ready to make dinner for them, Aguayo said, and there was a "big fat apple pie just like Mom makes."
And snacks in the bedroom, his wife Cindy said.
Larry Aguayo said: "Snacks. That's a big thing. In the 420 world, we like to eat."
A wave of retailers followed in the wake of the crop's legalization here, even though it remains federally illegal.
At Pipe Dreams Dispensary in oceanfront Lincoln City, a map on an interior wall inviting visitors to stick a pin in it to mark where they're from shows people come in from all manner of countries: Canada. India. Saudi Arabia. Spain.
Anyone can buy marijuana if they're old enough and have identification, Pipe Dreams owner Randy Mallette said.
"They can buy it, but there's nowhere for them to enjoy it. They can't take it to a hotel room," Mallette said. "Maybe if they get an edible — but vaporizing, smoking and that whole culture is muted in a way."
Ex-city councilor runs pot shop
By the serene Alsea Bay in Waldport, Pauline Gates' family bought 6,500 square feet "of empty storefront with endless possibilities" in the 1990s, transforming the space into a flea market.
Eventually, Gates began selling weed on the property. "In this one stoplight town, this has brought me people from all over the world," she said.
The former city councilor said she sees tourists come in every day.
"Everyone's got a smile on their face," she said.
While some come only in passing, others migrated to Oregon because of the crop for good.
One morning, Elizabeth Thompson wandered into Gates' store, Discovery Cannabis, checking out the wares while out on a drive with her son.
Thompson used to live in Shorewood, Wisconsin — but for her, Oregon was something of a promised land.
After her daughter Lola started suffering from seizures, Thompson packed up a minivan with her two children and dog, saying goodbye to family and heading west to a state she'd never been to before.
She arraigned for her daughter to get cannabinoid oil shortly after they arrived.
"Three days into living here, she was seizure free," Thompson said.
Oregon's Measure 91 to legalize recreational marijuana passed in 2014. Since then, tourism officials generally haven't rushed to promote it.
Marijuana hasn't exactly been the state's economic salvation, even though economists project it will bring in about $210 million in tax dollars through mid-2019.
In May, Dean Runyan Associates released a report for the Oregon Tourism Commission tracking the state's $11.3 billion in travel-related spending during 2016, a 4.3-percent year-over-year gain signaling seven consecutive years of growth.
The Portland firm doesn't mention marijuana once inside.
Marcus Hinz, Executive Director of the Oregon Coast Visitors Association, said there hasn't been a measurable "ground swell of visitation from legalization," with visitor centers infrequently asked about marijuana.
"I'd be willing to bet that users are still feeling rather private about their use and not wanting to announce themselves," Hinz said in an email.
"The tourism community cannot rest their hats on the industry, as there is no good way to measure that visitation — so, we've not (been) giving it much attention," he said.
For all his hustling back in Newport, Biggar, a Catholic, doesn't see himself as a pusher.
Some photograph him, giving him money for the shots, he says. He'll hand it off to charity and churches.
He has $30 tucked between the pages of his paper devotional and small paper towels under his white fedora. The sun shines over Newport. This must be sweaty work.
Biggar says: "The Lord has blessed us with people (who) come take my picture."